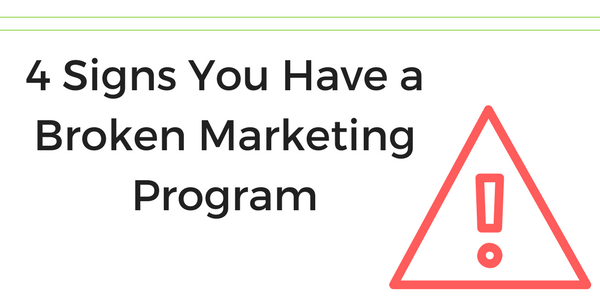 You can see it, but you don't want to believe it. Your marketing program is a broken marketing program.
An unremarkable, average marketing program.
Like most problems that are hard to solve, you will ignore it until it gets impossible to ignore. Broken marketing programs aren't cheaply or easily fixed–if you're worried whether or not it's too late to fix, it already is.
Feel like your marketing is just…average? Here are 4 signs that your marketing program needs a tune-up.
Your Lead Nurturing Hasn't Changed in the Last Year
There are benefits to sending leads through a similar process. eCommerce is almost by definition a standard-for-all checkout process and it's the exact same across every product. In fact, you'll have many of the same processes that are perfect to scale: an abandoned cart email, an email opt-in for future discounts, and shipping alerts, for example. Those tactics are easy.
But even though customers convert through the same process, taking a more nuanced approach will help you convert customers at a much higher rate. VentureBeat surveyed 506 marketers and found that "…between 70% and 94% have seen an increase in the effectiveness of various key metrics by employing personalization…". So how do we do that?
Start by identifying the differences in purchase decisions between your products or services. Do you have items that vary in value to the customer? Higher priced items may involve a much longer decision process. If you know that their process is longer, it'd make sense to extend an email nurturing program to reflect that.
Instead of an email with the sole purpose of selling those higher priced items, send an email with stories from previous customers who were making the same decision. If your product solves a problem, there's a good chance that your potential new customers will identify with those who previously made that purchase decision. Take a look at how Shape FX uses a testimonial where a previous customer describes a common problem, then suggests how shopping with Shape FX fixes it.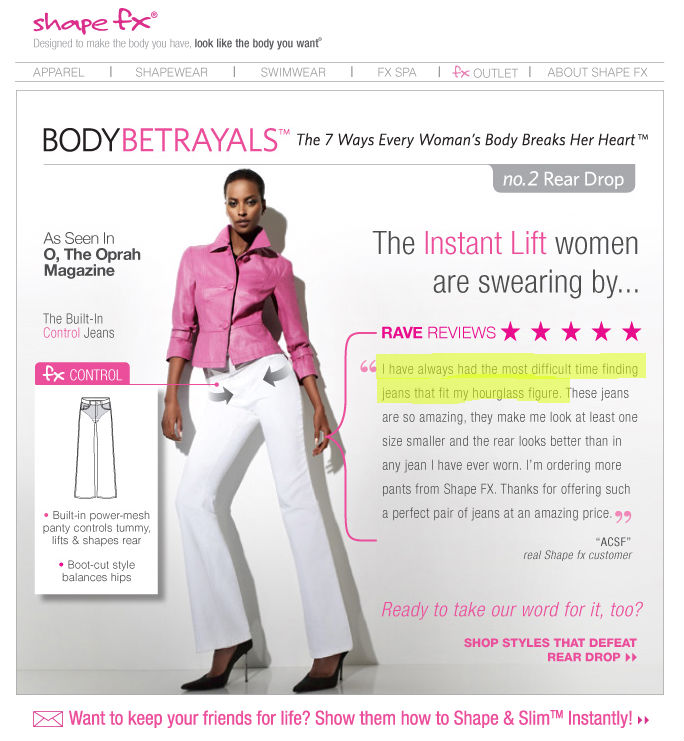 (Source)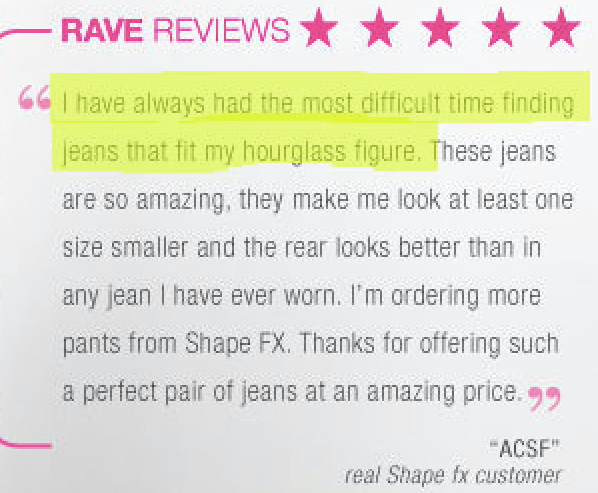 Do you think it's possible that your customers purchase from you to solve a similar problem? Of course they do.
Alternatively, if customers convert quickly then you wouldn't want to send them through a long nurturing process would you? Test the direct call-to-action with lower priced items.
Your Nurturing Process is Lazy
Since pricing can inhibit quick customer decisions, retargeting ads as the whole of your marketing program is lazy. If you can afford the resources, you need to be communicating through multiple channels–the channels your customers actually use.
Unless you have a high-value, need-driven business (like traffic attorneys–people almost view them as a commodity), then your customer's journey is likely more arduous and won't be enhanced with only retargeting ads for the next 30 days of their lives. Map your sales process to their decision process–it can be much different than your intuition.
When we wear our analyst hat, we look at Google Analytics and see that a customer came back 5x in the last month, visited 3 pages each session, & then clicked a retargeting ad to convert. What we didn't see is that they asked their friend for alternatives, visited 3 competitor's sites AND Amazon, and came back on their tablet–which they never log into their Google account on because they forgot their password.
The process is not as linear as we have been lead to believe. We need to empathize with our customers and make the experience friction-less for them–even if that doesn't flow with our advertising strategy.
The Customer Path is Never This Linear


(courtesy of HubSpot)
A good way to start the process is to identify the major stages of their decision and assess which have the most opportunity for change. In the HubSpot model, we have visitors, leads, and customers. Which of these stages will yield the most results for the amount of time you can afford to spend there? Would 20 hours of work converting leads to customers yield more revenue than spending 20 hours acquiring more visitors?
You Don't Know How Customers Become…Customers
Lots of businesses are successful because of their product–that's the winning lottery ticket we're all looking for. But we have to be honest and acknowledge that most products need a marketing push to grow. When you look for growth, how will you know what levers to pull? Do you even know where you would start to look for them? WHAT'S A LEVER BRIAN?!
Part of the reason email marketers are so obsessed with their Open Rate and Click-through Rate (CTR) is because they are *indicators* of success. Every marketing activity should have some indicator of success and answer the following question: if I improve this performance indicator, will my business be better off? If they increase their Open Rate and CTR, they're interpreting that as improving the customer experience or on-boarding process. Will your business be better off if you increase any metric? Not exactly. But if it improves the experience for customers, it's more likely to be a "yes".
It starts with identifying the stages (and touch points within those stages) that are critical to the customer and then assessing them for opportunities. If you notice that leads who download a PDF and read reviews on your site convert at 8%, compared to 2% overall, you may be able to increase your overall lead stage conversion rate by including reviews at the bottom of all of your emails to leads. If you don't know how they convert to customers, you won't know where to start. If you don't know how they convert to customers, you won't know where to start. Click To Tweet
When Sales Plunge, You Don't Know Why
It's easy to ignore marketing when things are going well. But what happens when things get really hard? Wouldn't you like to know why sales are going down month over month?
Part of having a rock-solid marketing program is measuring change and gathering insights and recommendations for how to counter it. If you're not tracking the right metrics, you'll have a hard time identifying the root cause and correcting your course.
Unfortunately, we've been lied to about how easy it is to measure success. All-in-one CRM's, real-time analytics, & big data are not the categorical answer we were looking for in 2015. While these tools can bring an incredible amount of value to certain businesses, you still need to make them work for you, not the other way around.
When Sales Do Well

When Sales Dip

I believe in starting small with reporting. Identify what's core to your business and work out from there. Does eCommerce revenue from your top 3 channels indicate overall success or failure? How can you calculate cost month-over-month in just 2 hours per month? Start small, then expand.
Even great companies have average marketing programs at times. Don't let it become a habit or it will become your brand. Don't let your brand stand for average.